Pacific Palisades: A Comprehensive Overview
When it comes to living in Southern California, Pacific Palisades stands out as one of the most exclusive and picturesque neighborhoods. With the Pacific Ocean to the west and the Santa Monica Mountains to the north, this exceptional neighborhood boasts a distinct charm that sets it apart from the rest of the city. In this comprehensive guide, we're going to introduce you to the charm and allure of Pacific Palisades, a coastal paradise that embodies the California dream.
A Neighborhood with 13 Distinct Submarkets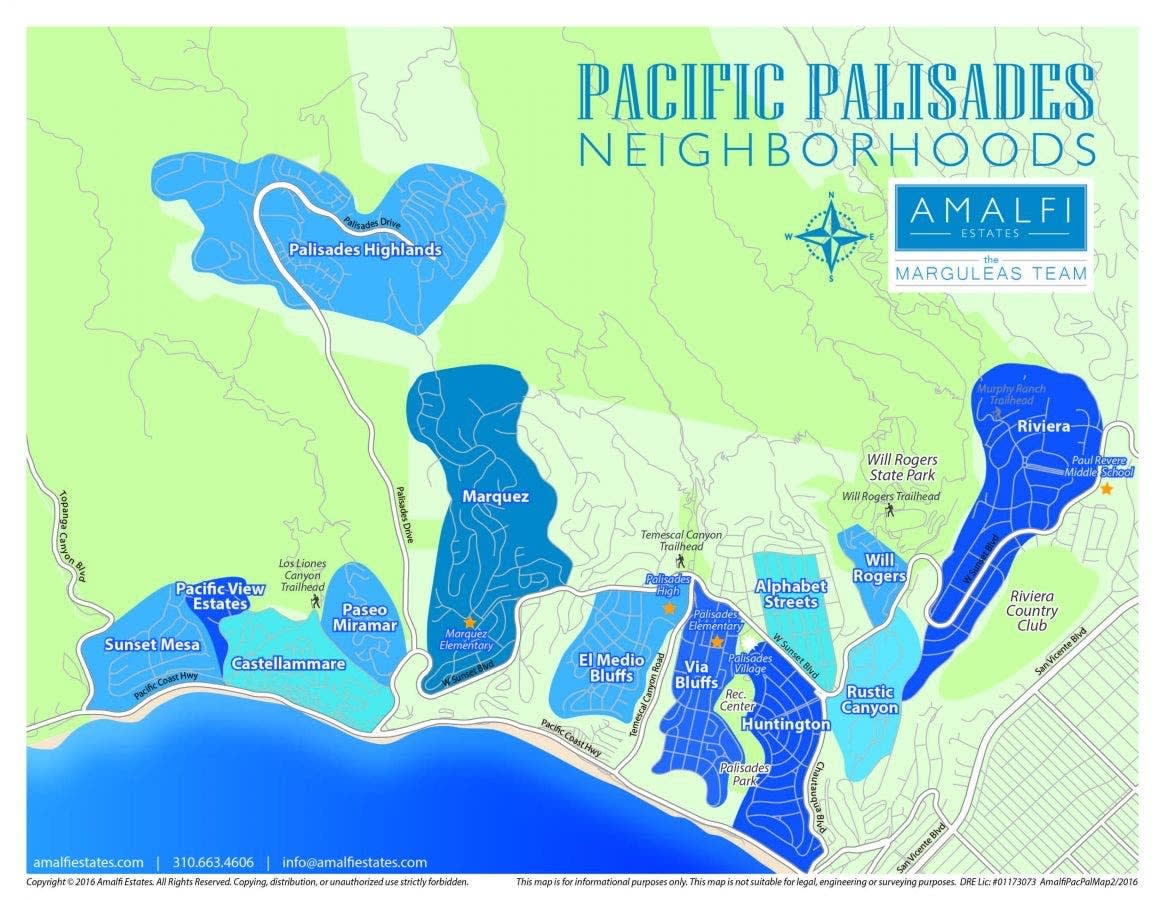 Pacific Palisades stands out in a city renowned for its diversity. While many neighborhoods in Los Angeles have six geographical submarkets, the Palisades boasts an impressive 13 submarkets, each with its own character and allure:
Sunset Mesa: known for its stunning ocean views and well-maintained homes. It offers a serene and upscale living experience with convenient access to the beach.
Palisades Highlands: This area is characterized by its scenic hillside location and family-friendly atmosphere. You can enjoy a suburban lifestyle with proximity to parks and hiking trails.
Castellammare: Coastal neighborhood offering a relaxed beach community atmosphere. It's an excellent place for those seeking coastal living with beautiful views.
Paseo Miramar: Famous for its luxurious homes and panoramic ocean vistas. It's ideal for those who value privacy and upscale living.
Pacific View Estates: This neighborhood offers a range of housing options, from single-family homes to townhouses. It's perfect for those looking for a diverse residential environment.
Marquez Knolls: Known for its family-friendly atmosphere and excellent schools. It's a great choice for families looking for a welcoming community.
El Medio Bluffs: Charming neighborhood with a mix of architectural styles. You'll find a unique blend of historic and modern homes.
Via Bluffs: Offers a peaceful living environment with tree-lined streets and well-kept properties. It's perfect for those who prefer a more serene atmosphere.
The Huntington: Prestigious area with large estates and well-manicured gardens. It's sought after by those looking for luxury living.
The Alphabet Streets: This area is known for its walkability and a variety of architectural styles. It's an excellent choice for those who want to live in a vibrant, close-knit community.
Rustic Canyon: Offers a unique blend of nature and upscale living. It's perfect for those who appreciate a tranquil setting with proximity to urban amenities.
Will Rogers: Home to the historic Will Rogers State Park. It's an exclusive and gated community with beautiful estates. It's the ideal choice for those seeking privacy and security.
The Riviera: Famous for its elegant homes and proximity to Riviera Country Club. It's perfect for those who enjoy golf and upscale living.
Each of these submarkets carries its own unique character, offering a diverse array of lifestyle options. There's something for everyone here. It's not just a single neighborhood; it's a collection of unique communities, each with its own character and charm.
Exploring Pricing
While Pacific Palisades is known for its exclusivity, it's accessible to a wide range of budgets.
Entry-Level Options: You can find entry-level properties, such as fixer-uppers or tear-downs, in the range of about a million and a half dollars to $2 million. It's an opportunity to own a piece of the Palisades without breaking the bank.
Luxury Living: For those seeking the epitome of luxury, Pacific Palisades offers some of the most opulent properties in Southern California. These estates, complete with breathtaking views, expansive grounds, and top-of-the-line amenities, can reach up to a staggering $83 million.
A Peaceful Haven Amid Urban Hustle
One of the defining features of Pacific Palisades is its tranquil ambiance. This sense of peace and exclusivity sets it apart from the bustling energy of nearby Beverly Hills. Part of the allure comes from its limited access points, with only three main entrances: Sunset Boulevard, Temescal Canyon, and Chautauqua.
In Conclusion
This introduction provides a glimpse into the irresistible allure of Pacific Palisades, a neighborhood with 13 distinct submarkets, each offering a unique flavor and a range of lifestyle options.
If you're eager to explore this coastal paradise further, you have a trusted guide in Anthony Marguleas. With over 1200 families assisted in buying, selling, and leasing primarily within the Palisades and the distinction of being the top agent in the Palisades for an impressive ten years, Anthony and his team are your go-to experts in Palisades real estate.
They possess a unique understanding of the nuances of Palisades properties, often having insights before properties officially hit the market. Their expertise extends to helping you find the perfect neighborhood that suits your dreams and aspirations.