Renovations are a fantastic way to spruce up your home and add value! They give you a chance to turn a drab design into something that's more your style, modern, and even more functional. In the Q4 survey released by HomeLight in 2020, kitchens, bathrooms, and outdoor spaces are among the top areas that folks are focusing their renovation dollars on.
If you're looking to give your home a new lease on life (so to speak), here are some home design trends in 2021 that we think will do the trick.


Art Deco
Art deco was all the rage in the 1920s and it's making a huge comeback with its geometric shapes, animal prints, and accent pieces that are as functional as they are an artsy statement piece.
Some ways you can incorporate art deco into your home design include:
Metallic features such as sinks, light fixtures,  cabinet hardware
Sunburst accents like light fixtures, mirrors, and  art pieces
Using high-end materials like ebony wood for tables or marble countertops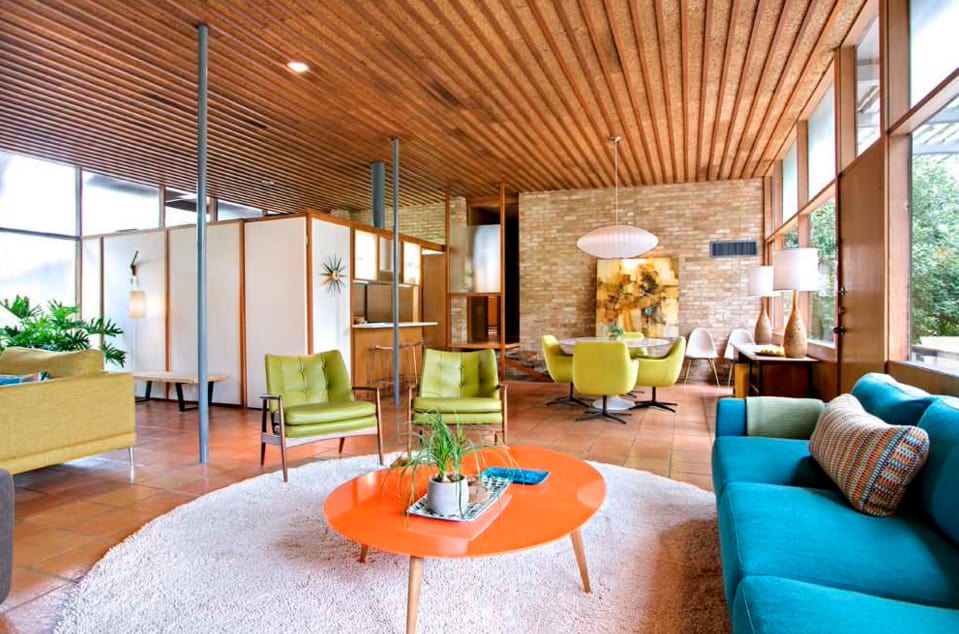 Mid-Century Modern
Fast forward about thirty years and we have mid-century modern design. This design style features simple designs, organic fabrics, neutral color palettes, and (interestingly enough) readily available thanks to Target, Wayfair, or Ikea.
Some ways you can incorporate mid-century modern design include:
Furniture with clean lines like chairs with flared backs and hairpin legs
Open floor plans that promote family-bonding
The use of natural materials like wood, glass, stone, and metal

Relaxed Eclectic
Relaxed eclectic design is when you use conflicting textures and patterns (i.e. metal tabletops with wooden legs) to create a design that works to create a balanced space. This design style doesn't have any strict rules that you should follow – you can let your creativity shine. If you fancy a variety of periods and styles, this design trend will be right up your alley.
Some ways you can incorporate relaxed eclectic design include:
Have a boldly patterned accent wall using wallpaper or patterned backsplash
Use neutral color palettes so bold colors pop
Create a cohesive design by using similar colors, materials, textures, or finishes

Bold Pops of Color
Color is a fantastic way to change the look of any space. All-white kitchens may have been in style for a while, but homeowners are adding pops of color in a variety of ways throughout their home. Since color is a personal choice, we don't recommend choosing a color simply because it's "in" right now. Choose a color that you won't want to paint over in a year or two.
Some ways you can incorporate bold pops of color include:
Painting the kitchen island or cabinets a bold color like turquoise, dark blue, or orange
Instead of stone countertops, consider an epoxy countertop with a custom color/pattern
Use vibrantly colored pillows or cushions to liven up patio furniture

Metallic Accents
Metallic accents can be an awesome way to add a bit of luxury to an everyday space. Metallics like brass and gold can add warmth to your home while finishes like stainless steel, brushed nickel, or silver lend themselves perfectly to modern aesthetics.
Some ways you can incorporate metallic accents include:
Install brass or gold sink basins and fixture to the kitchen or bathroom
Replace ordinary cabinet hardware with metallic hardware to contrast with cabinet color
Choose metallic chandeliers or light fixtures to act as a grand focal point
It's expected that home design trends will change and what once was all the rage soon becomes a distant memory. We know that it can be difficult to commit to one particular design style, especially if you're trying to tap into the current trends. However, before committing, start off small by choosing a few art pieces, changing hardware, or purchasing one or two pieces of furniture that you're really drawn to.
The most important part of designing your home is to remember that it should be fun and don't overthink things!