Anthony and Max Marguleas and Anthony's assistant Antonia passed out Valentine candy.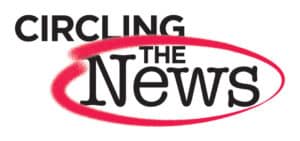 Many of Anthony Marguleas' clients and special friends received an email before Valentine's Day that read: "To sweeten your day, Amalfi Estates would like to treat you to a box of SEE's chocolates." The invitation added that "for your safety, chocolates will be on a table outside of our office ready for pickup . . .Stop by and say 'hello.'"
About 45 people received the heart-shaped box filled with one pound of delicious chocolates. Marguleas, who is the founder of Amalfi, said he started the tradition because "it is a fun and nice thing to do."
The long-time resident also took a box to Fire Station 69. "It was sweet," he said. "I walked in and there were about 15 firemen in the main room."
A few of his select clients also received a bottle of Starlight Vineyards Rose.
Since 2013, Marguleas has supported the Village Green with a yearly $5,000 donation. In making that donation, he told Circling the News, "We can all give back, it doesn't have to be large amounts."
His team of agents donate close to $200,000 from their commissions every year to five partner charities: Homeboy Industries, The People Concern, Make a Wish, American Cancer Society and Wags & Walks.
February 15, 2021 by Sue Pascoe